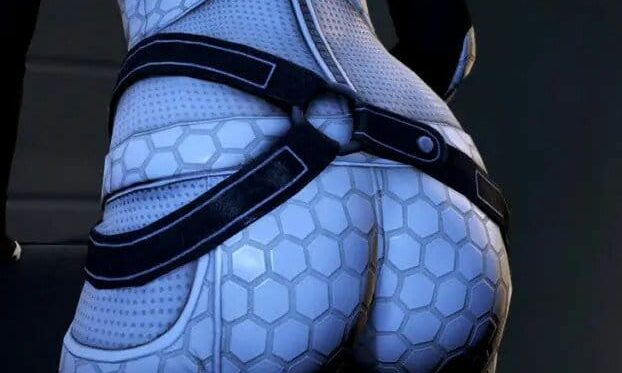 Bioware removed the infamous Mass Effect: Legendary Edition butt shots. A modder put them back in
Mass Effect Legendary Edition (the remastered version of the original Mass Effect games) was a lot less – er – cheeky, than its predecessors.
Developer Bioware removed or dialled down the gratuitous bum shots that were a feature of the original games, but a modder has added them back in, because unnecessary ass is important.
Interestingly, the butt shots removed from Mass Effect 2 & 3 have actually been added back in to Legendary Edition by the same modder who removed them from the original games.
Modder Scottina123 originally removed the close-up of Miranda's booty back in September 2018 with their No More Butt Shots mod. The shots, which took place during one of the games most emotional scenes between characters Miranda and Shepherd, saw her talk about concerns for her family's safety.
Completely diverting the players away from the characters' emotions and expressions, the camera appeared to focus on her butt giving the viewers a close-up view of her famous cheeks instead of, say, her face.
"The camera positioning for Miranda's pre-loyalty mission always annoyed me," their description for the mod reads.
"To me, it was extremely disrespectful to Miranda's character. She just let you into, possibly, her greatest secret and all the camera does, by focusing on her behind, is sexualised her in a key point of character development. This mod fixes that. Now the camera will no longer focus on her butt at any point in the loyalty mission conversation. The camera will remain the same during her romance conversation."
The third-person shooter RPG game, which depicts an alternate universe where humans and the alien civilisations have colonised the Milky Way galaxy, has previously come under fire for its representation of same-sex relationships and sexual minorities.
Just last month, BioWare was in the news for a recent update that saw the deadname of a former-employee who transitioned after working on Mass Effect 2 be removed, and instead she has been credited under her new name, much to her cousin's delight. We definitely need to see more of that behaviour from developers in future.
My Cousin worked on Mass Effect 2 years before she Transitioned
She, of course, was listed in the credits under her dead name.
She doesn't work their anymore but Bioware just released the Mass Effect Trilogy Legendary Edition and THEY UPDATED HER NAME IN THE CREDITS!
— Camden MacLaren (@Prose_Edda) May 15, 2021
For more gaming news, follow Gaymeo on Twitter and Facebook. You can also email us with any news or tips on [email protected]