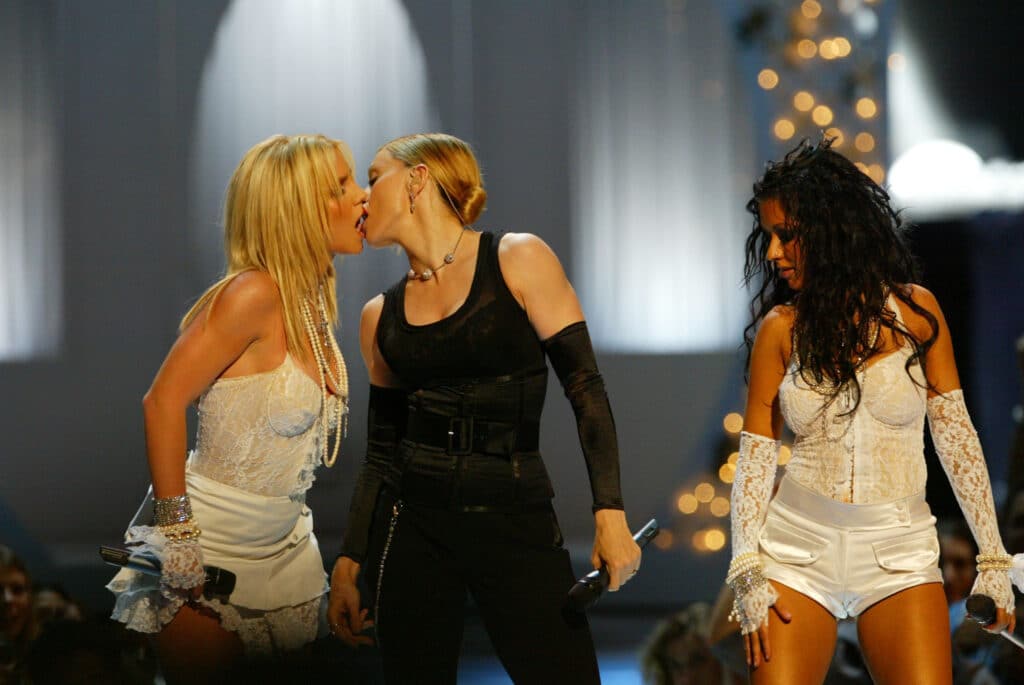 Britney Spears drags Christina Aguilera for 'refusing to speak' about her 'abusive' conservatorship
Britney Spears has dragged Christina Aguilera for "refusing" to speak up after she was freed from her conservatorship.
After being finally freed from the restraints of her almost 14-year-long conservatorship earlier this month, an emboldened Britney has increasingly called out the people in her life on social media.
On Friday (19 November), the 39-year-old singer took aim at fellow pop icon and childhood friend Aguilera on her Instagram Stories.
She shared footage of the "Lady Marmalade" hitmaker on the red carpet of Thursday's Latin Grammy Awards, when Aguilera was asked by a reporter if she has contacted Spears since her conservatorship was terminated.
Aguilera's publicist then interjected and tugged her away as he said: "No, we're not doing that tonight. I'm sorry."
The 40-year-old frowned as she told reporters she can't answer the question. Walking away from the press line, she added: "But I'm happy for her."
Britney, however, was anything but.
"I love and adore everyone who supported me…" Britney fumed, "but refusing to speak when you know the truth, is equivalent to a lie !!!!
Britney Spears calls out Christina Aguilera for walking away from a question about her conservatorship ending. pic.twitter.com/Lib6FcE4iC
— Pop Crave (@PopCrave) November 20, 2021
"Thirteen years being in a corrupt abusive system yet why is it such a hard topic for people to talk about ???
"I'm the one who went through it !!!! All the supporters who spoke up and supported me, thank you… yes, I do matter !!!!!"
Christina Aguilera: Britney Spears' conservatorship is 'unacceptable'
Spears and Aguilera rose to fame together as child stars on Disney's The Mickey Mouse Club. Co-starring on the show from 1993 to 1994.
The pair were then catapulted to international stardom as they both launched lucrative music careers in the 1990s. They even performed on the MTV VMA stage with Madonna, forming the holy trinity of pop.
Britney Spears, Madonna and Christina Aguilera perform opening act at the 2003 MTV Video Music Awards (Kevin Kane/WireImage)
Years later, and Britney delivered a blistering testimony to courts in June against her conservatorship, a complex and controversial legal arrangement that once saw both her personal and financial affairs controlled by others.
In a 20-minute-long and almost breathless speech, Britney bristled as she described the arrangement as "abusive" and "traumatising".
Aguilera was among a constellation of stars to speak out following this, saying that the severe level of control over her friend's life is "unacceptable".
"It is unacceptable that and woman, or human, wanting to be in control of their own destiny might not be allowed to live life as they wish," she wrote in a six-part Twitter thread.
"To be silenced, ignored, bullied or denied support by those 'close' to you is the most depleting, devastating and demanding thing imaginable."
The post Britney Spears drags Christina Aguilera for 'refusing to speak' about her 'abusive' conservatorship appeared first on PinkNews | Latest lesbian, gay, bi and trans news | LGBT+ news.