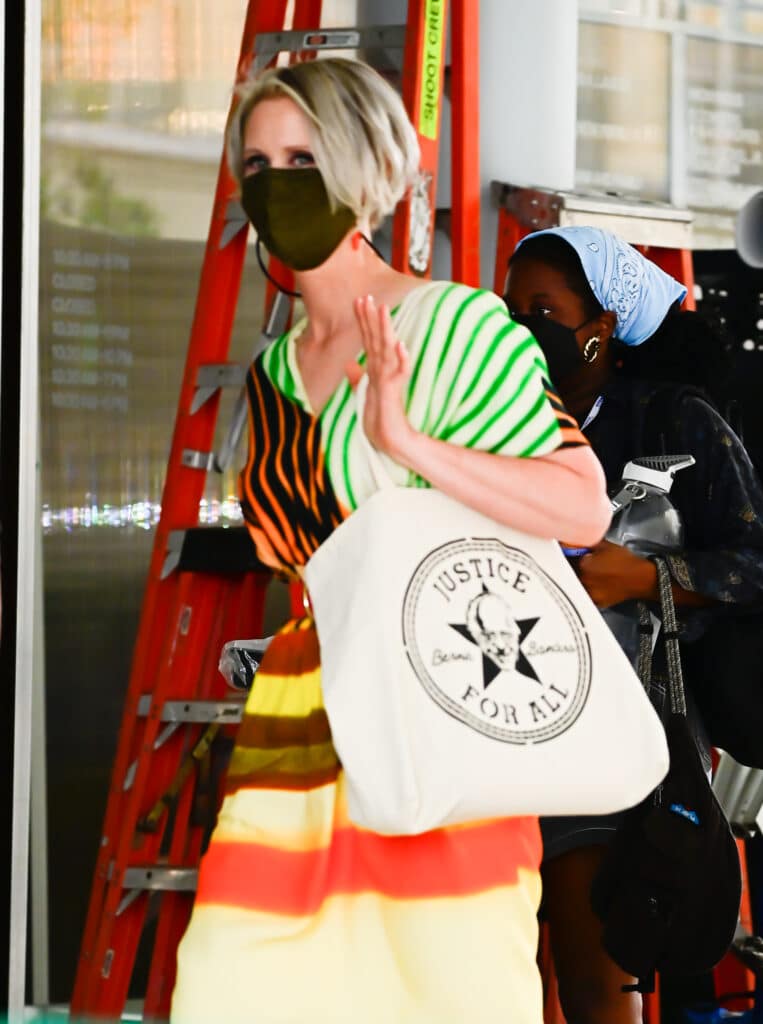 It looks like Miranda's going to be a die-hard Bernie Bro in the Sex and the City reboot
Sex and the City star Cynthia Nixon has been spotted carrying a Bernie Sanders tote bag while filming the new reboot, And Just Like That…
Because of course she has.
Miranda Hobbes, corporate lawyer, fashion icon, and basically the only Sex and the City character that's remotely likeable, is obviously a Bernie Bro in 20021.
She's played by Cynthia Nixon, after all, the proud queer woman, progressive activists and – least we forget – one-time Democratic gubernatorial hopeful. If they managed to woo Nixon back after the horror show that was Sex and the City 2, it goes without saying they had to have some good stuff up their sleeves.
Cynthia Nixon filming the Sex and the City reboot, And Just Like That…, in New York. (Getty)
Hopefully, that means Miranda has ditched Steve and is living out the dazzlingly queer life we all dreamed of for her. She's working in politics, maybe holding elected office. She travels down to LA every other weekend to lord it up with Samantha Jones (off-screen, of course). She's had serious words with Carrie about her many, many, many flaws.
Yes, OK, fine, this is all conjecture. And we won't actually know what Miranda is up to until And Just Like That... hits screens – we don't know when. In 2022, probably. Ideally having ditched that terrible name.
View this post on Instagram
The reboot is currently filming in New York, with Nixon joined by Sarah Jessica Parker (Carrie), Kristin Davis (Charlotte) and no, not Kim Cattrall. Aside from the fact that it'll reference the COVID-19 pandemic (hence Nixon's mask, presumably), we know little about the actual plot.
Sorta-filling the public relations executive-shaped hole in the series will be Sara Ramírez, who's playing an "outrageously funny" queer, non-binary podcast host.
We'll also check in with the gay characters none of the gays really seemed to care about, Stanford (Willie Garson) and Anthony (Mario Cantone), as well as the aforementioned Steve (David Eigenberg), Charlotte's husband Harry (Evan Handler), Mr Big (Chris Noth) and – the one we really care about – Aiden (John Corbett).
And Just Like That… will air on HBO Max.