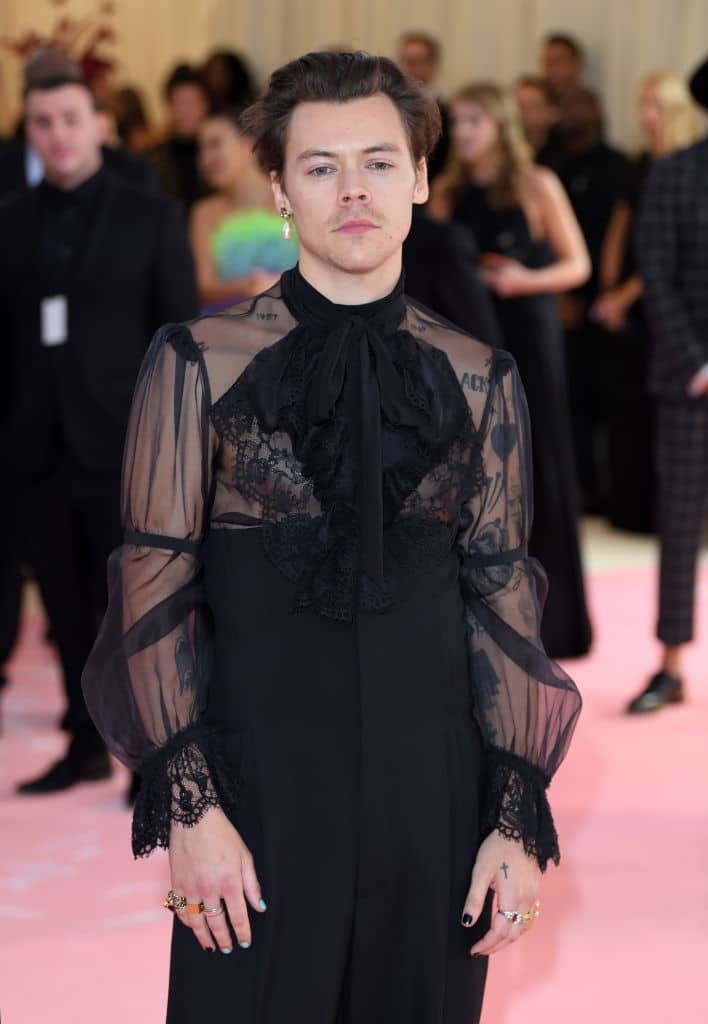 Six times Harry Styles' consistently on point nails gave us life – and why he paints them
Since the singer launched his solo career in 2017, Harry Styles has continued to toe the fine line of gender with his sartorial choices: especially his nails.
From donning bold printed suits onstage to stepping out in an iconic sheer ensemble at the 2019 Met Gala to dragging it up as Dorothy from The Wizard of Oz at his latest Harryween show, Harry has shown that fashion has no gender – and that you can look hot in any outfit.
As such, it comes as no surprise that the singer has recently joined the likes of fellow celebrity fashion icons Rihanna and Arianna Grande and launched his own beauty line, Pleasing. While the first drop features only three items, it's all just undeniably Harry.
The collection is made up of the "Pearl Illuminating" serum, a "Pleasing Pen Matte" lip oil, and of course, a "Perfect Pearl" nail polish set that comes with four polishes.
In recent years, the Fine Line singer has become a kind of nail art trend-setter, with Harry Styles fans posting about their Harry Styles-inspired nails all over YouTube and TikTok. You can find Harry Styles-inspired acrylic nails on Etsy and even follow a Harry Styles Nail Update account on Twitter.
It was, in fact, his penchant for polish that inspired his decision to start the enterprise. Speaking to Dazed magazine about his brand's launch, Harry says that "[Nail polish] was kind of the birth of what it was for. Me seeing a colour on a flower or a wallpaper or something and thinking, 'Oh, I wanna put that on my nails'. It was a fun little project".
So with that being said, we couldn't help but take a look back at all the times Harry Styles' nails painted us green with envy.
Harry Styles' Met Gala nails
Sure, the sheer Gucci blouse made everyone collectively drop their jaws that fateful night. But what really set Harry apart at the 2019 Met Gala was his attention to detail, from the dramatic single pearl earring to his chunk rings to his understated manicure. Harry Styles' Met Gala nails were painted black and teal – the perfect balance of subtle and fresh.
Harry Styles arrives for the 2019 Met Gala celebrating Camp (Getty)
Harry Styles' pink and blue nails
When Stevie Nicks was inducted at the Rock 'n' Roll Hall of Fame in 2019, the former One Directioner showed up to celebrate his long-time hero and unlikely pal. Harry Styles' fingernails – pink and blue – were the perfect accent for his bright blue velvet suit. The vintage suit, which had a double-breasted jacket and flared pants, along with the colourful nails made Harry look like he came straight out of a Fleetwood Mac concert.
This also isn't the last time Harry has donned this particular manicure, perhaps because the colours mirror the pastel tones on his second album, Fine Line. Harry Styles' Fine Line nails' in pink and blue look have also made an appearance at the Gucci Cruise 2020 Fashion Show and the Saturday Night Live stage.
Harry Styles and inductee Stevie Nicks attend the 2019 Rock and Roll Hall Of Fame Induction Ceremony at Barclays Center on March 29, 2019 in New York City. (Getty)
Harry Styles' nails painted with mixed fruits
Harry's music has a summery retro quality to them, with titles like "Kiwi", "Cherry", and "Sunflower, Vol. 6".
As such, it was only a matter of time that Harry pulled up to a performance with nails painted with those very fruits. The look was created by manicurist Britney Tokyo, who also produces her own nail polish.
Harry Styles' smiley nails
Aside from pink and blue, yellow is another colour that shows up a lot in Harry's work and wardrobe. In a promotional video for the vinyl edition of Fine Line, the singer leafed through the album with the cutest manicure – bright yellow smiley faces on each fingernail. The look can be credited to nail artist Jenny Longworth, who posted close-up photos on her Instagram.
Harry Styles' golden nails
Speaking of bright and cheery nails, Harry Styles' bold brush with yellow and white silver nail polish proved to be a huge crowd pleaser. Harry wore the alternating colours in his "Golden" music video to match the sunshiny vibes of the song.
Harry Styles' nails in the Golden music video
Harry Styles with painted nails in the 'Watermelon Sugar' MV
There is a lot to take in from the music video, from Harry digging into a watermelon while sporting blue Coca-Cola bottle glasses to the copious amounts of touching and hair-grabbing. It's a lot.
Like his other videos, "Watermelon Sugar" is bursting with colour, from the extras' outfits to Harry Styles' painted nails in cheery neon coral.
Harry Styles' nails in the Watermelon Sugar video
Why does Harry Styles paint his nails?
Even before One Direction went on an indefinite hiatus, Harry had been slowly breaking free from his clean-cut boy band image. He's opened up about his love for "flamboyant" clothing in the past, telling Vogue magazine that he likens it to a "superhero outfit". "Clothes are there to have fun with and experiment with and play with".
That philosophy, it seems, extends not just to his choice of clothing, but to his accessories, hair, jewellery, makeup, and yes, nails too.
If you want to take a cue from the singer's playbook, consider grabbing a bottle of Harry Styles' nail polish or the Perfect Polish set. While you're at it, be sure to keep an eye on his beauty line. The star is set to drop more exciting skin and beauty products in the future.
"Do I have any idea where Pleasing will be in five years? No. Obviously, I have an idea of what I would like us to be aiming at, but honestly, I don't know", he told Dazed. "That's what makes it exciting to me."
The post Six times Harry Styles' consistently on point nails gave us life – and why he paints them appeared first on PinkNews | Latest lesbian, gay, bi and trans news | LGBT+ news.