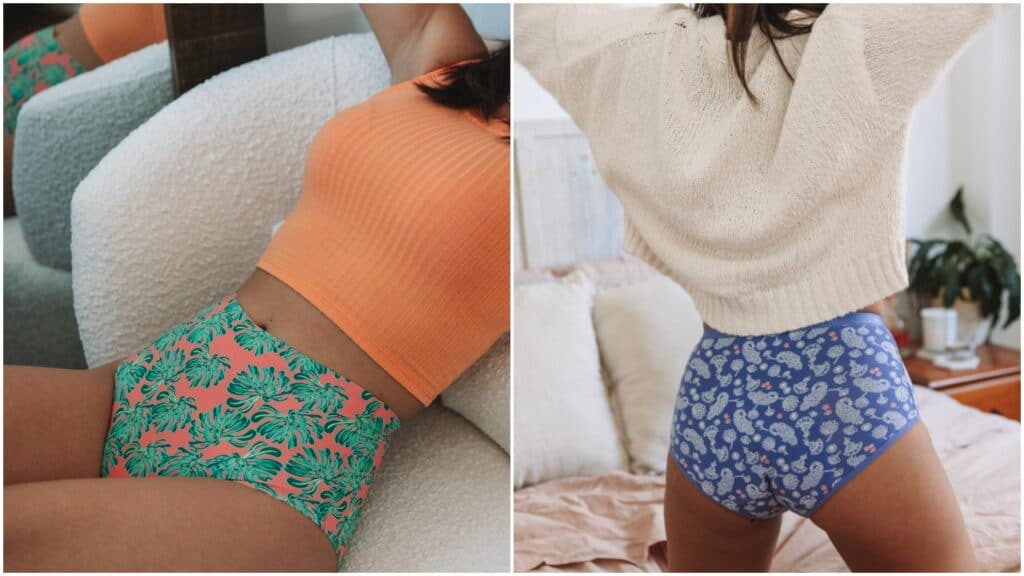 This colourful, leak-proof underwear collection for people who have periods is an absolute delight
Modibodi have launched a colourful underwear collection to brighten up your drawer.
The brand's leak-proof underwear have been given a makeover, with vibrant prints and colours.
The planet-friendly, bold new range is now available to shop at modibodi.co.uk.
This article contains affiliate links, PinkNews may earn revenue if you click through and purchase products through the links.
The new collection features four bold shades inspired by the jewels of the earth: Amethyst, Serpentine, Garnet and Clay.
They're available in a range of best-selling styles and absorbencies including the Classic Bikini, Classic Full Brief and Sensual Hi-Waist.
There's also a number of Recycled Seamfree styles for extra sustainability and to create an invisible look under fitted clothing.
For fans of Modibodi's Maxi-24hrs absorbency, which holds up to 10 tampons worth for heavy-duty protection, there's a new selection of prints and colours.
Lush Crush and Boho Love are two new designs from Modibodi.
The newest additions to the website include Lush Crush and Boho Love, a leafy print and paisley print designs, both in a choice of style and absorbency.
The former is available in soft, breathable bamboo or recycled nylon, while the latter is available in bikini and full brief styles.
Modibodi is a game-changing brand for people who have periods
Modibodi was created by CEO Kristy Chong in 2011 after being inspired by her own experience with bladder leakage.
While training for a marathon she realised that the available solutions for leaks were inconvenient, uncomfortable and damaging to the environment.
Since its launch Modibodi has become Australia's number one selling period and leak-proof underwear brand as well as a world leader in sustainable period underwear.
Popular products include the game-changing workout leggings that won't let your period or pelvic floor get in the way of exercising.
Another is the Adaptive Boyleg reusable briefs, which aim to make it easier for those who are less mobile to change their underwear.
Customers can also use the code MODIBODI2021 to get 15 percent off any orders over £120.
To find out more about the brand and to shop the new collection head to modibodi.co.uk.
The post This colourful, leak-proof underwear collection for people who have periods is an absolute delight appeared first on PinkNews | Latest lesbian, gay, bi and trans news | LGBT+ news.