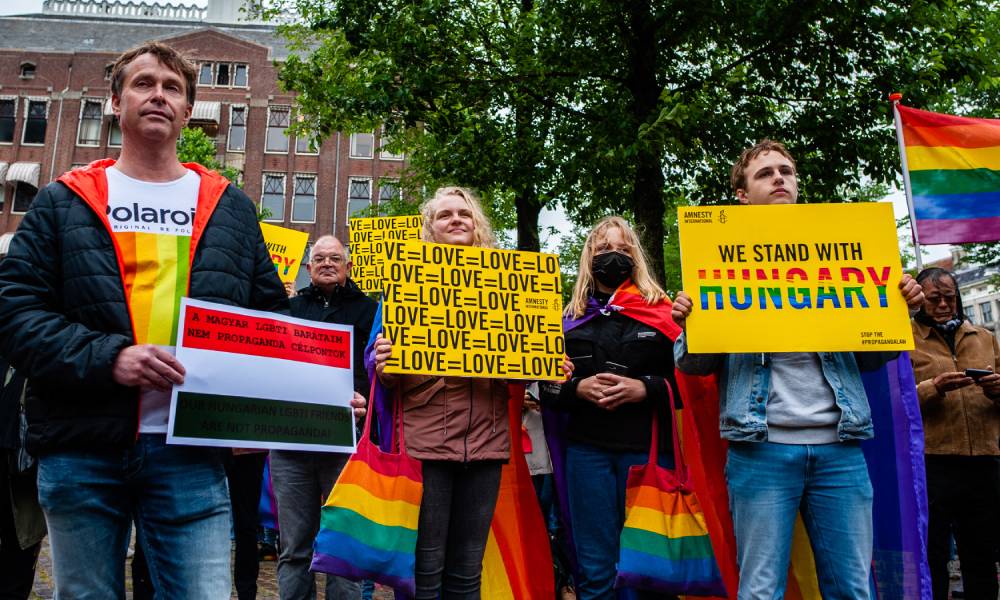 Trans teacher fears he might not be allowed to keep his job under Hungary's cruel anti-LGBT+ law
A trans teacher has opened up about his fears that he might not be allowed to continue teaching after Hungary passed its cruel anti-LGBT+ law.
Floris Fellegi-Balta, a transgender secondary school teacher in Budapest, told Reuters he was unsure about his future career after the hateful legislation came into force Thursday (8 July). The controversial law prohibits the discussion of LGBT+ identities in schools, advertising and in media which could be seen by minors.
"I kept pouring over the law to see whether I could even continue teaching," Fellegi-Balta said. "One interpretation of the law is that by showing up and teaching, I am displaying transsexuality."
An official for the school where Fellegi-Balta works said it will do whatever it can to protect the teacher. The official told Reuters: "We will do everything to keep the school a liveable place for the student body and to earn the trust of parents and our students.
"And if a concrete case arises, we will argue our point in every legal forum."
People hold signs from Amnesty International protesting Hungary passing legislation that bans LGBT+ content in schools, media and advertising aimed at minors. (Photo by Ana Fernandez/SOPA Images/LightRocket via Getty Images)
Hungary has refused to bow to international pressure to abolish its anti-LGBT+ law. Viktor Orbán, Hungary's prime minister, has continuously claimed the law is "not about homosexuality". Instead, he argued the law is "about the kids and parents" and would allow parents "to decide how children are acquainted with the issue of sexuality".
But Hungary's oldest LGBT+ campaign group Háttér Society said Orbán's statements were blatant "lies".
Fellegi-Balta told Reuters that he runs an extracurricular group that discusses LGBT+ issues and supports children in the school. From a "scientific standpoint", he argued he would be "lying" if he didn't tell young people that LGBT+ people exist.
"But this does not mean I would be promoting these issues," Fellegi-Balta said. "We will not exercise self-censorship."
Activists and the European Union (EU) members have slammed Hungary's anti-LGBT+ law
Hungary has faced weeks of international backlash because of the vile law. On Wednesday (7 July), European Commission president Ursula von der Leyen said the legislation "uses the protection of children […] to discriminate against people because of their sexual orientation".
"It's a disgrace," she added during a debate in Strasbourg.
Various EU officials have also spoken out against Hungary's anti-LGBT law. In June, 17 of the bloc's leaders signed an open letter pledging to "continue fighting against discrimination towards the LGBTI community".
On Thursday, activists from the Háttér Society and Amnesty Hungary erected a giant, kaleidoscope-coloured balloon outside Hungary's parliament to protest the reviled law. Luca Dudits, a spokesperson for the Háttér Society, told the Associated Press that "civil disobedience" is the only path left to LGBT+ activists to try to get the law overturned.
"We will not change anything about our activists," Dudits said.
Activists fly a giant, rainbow heart balloon as they perform a flashmob in protest against a new anti-LGBT+ law in front of Hungary's parliament on 8 July 2021. (Photo by ATTILA KISBENEDEK/AFP via Getty Images)
He added that the law will potentially put LGBT+ youth "in danger of bullying and harassment in schools". Dudits also told reporters that the hateful law could become a "breeding ground for attacks, intimidation and self-censorship" in Hungary.